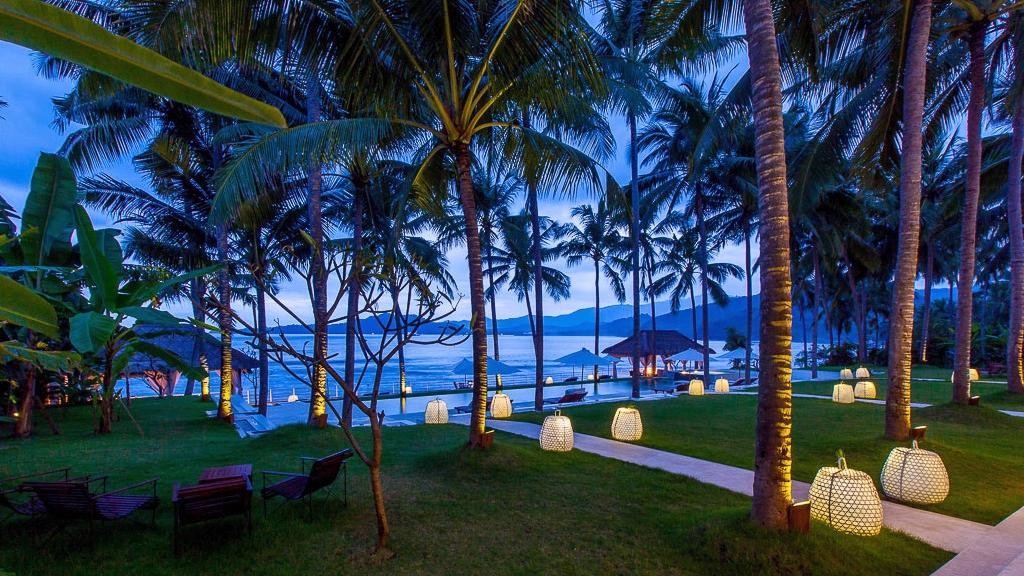 Villa Stella: a Beachfront Haven
Villa Stella is a cozy, chic, and gorgeous
three bedroom villa
with colonial designs and Southeast Asian flavor, all with a modern twist. The Villa is sure to romance guests with its abundant coconut trees and an
expansive grass lawn
that stretches into the ocean, which is just a few feet away from the villa. Located in tranquil Amuk Bay, Villa Stella is going to be a holiday you won't forget.
Outdoor and Pool Area
You'll be inspired and energized each time you step out of the villa. A
lush green lawn
dotted with coconut trees greets you. In the evening, the numerous lamps light up, providing a subtle romantic atmosphere.
Past the lawn is a gorgeous
25 meter pool
where you can take a swim and lounge on the beach recliners. In the evening, you can stay on the
sandy verandah
and have dinner by the sea, enjoying some delicious barbecue as you delight in the cool sea breeze. If you want to take a swim or snorkel and enjoy the marine life, the
ocean is only a few feet away
.
Living Area
Villa Stella boasts stylish living spaces that adds character while providing you with utmost comfort. The Villa is designed with an interesting blend of
antique pieces from Sri Lanka and Java and modern furniture
.
Art pieces and wooden antiques
decorate the living rooms and guest bedrooms. However, despite its traditional Southeast Asian flavor, guests won't be wanting for more modern amenities. Equipped with a full kitchen and viewing entertainment, Villa Stella is perfect for families and friends.
Guest Bedrooms
Villa Stella has
three guest bedrooms
that also boast furniture and decor with a unique blend of the old and new, traditional and modern. You can relax and rest easy, maybe even do some Yoga in the comfortable guest bedrooms. Each bedroom has a
private bathroom
with a clean and modern finish. The best part of each bedroom is that you can be lulled to sleep by the ocean's waves as each room has a
brilliant view of the sea
.
Staff and Services
Having friendly and accommodating staff adds an extra special touch to an already memorable trip. At Villa Stella, you'll experience only the best of Balinese hospitality. While the guests pay for the market cost of the groceries, there is an
in-house chef
who will cook meals which will delight your taste buds and excite your senses. If you want to "live like the Balinese", you can also go with the chef to buy the groceries and look at the various sights, tastes, colors, and smells the local market has to offer.
The staff at Villa Stella can help you arrange even more exciting and relaxing adventures such as,
diving in Amuk bay, visiting a nearby temple, or having a massage in a private villa Bale
. Whatever your fancy, the staff will be happy to arrange it for you.
Around Villa Stella
Villa Stella is located in
peaceful Amuk Bay
, which is away from the crowds of the busier beaches in Bali. You can enjoy a quiet dive or a swim with your family and friends.
The village of Sengkidu
is a short trip away where local handicrafts and other novelties can be found. The Villa is also near
Padang Bai
where visitors can explore Bali further and take a ferry to its offshore islands. Villa Stella is a perfect location if you want to experience a calm and more traditional Bali.
Click here to see all 49 villa pictures
Second visit to villa Stella. What a fantastic location to be look after and switch off from the world to relax. Full compliments to the whole team.
We finish our 7 days in Bali in this beautiful villa. So glad to have spent our time in this breathtaking creation. We both thoroughly enjoy the beautiful sea view, the gourmet Indonesian cuisine prepared by Mrs Latri and the friendly excellent hospitality. The rooms are very spacious comfortable. It was the best holidays ever. We highly recommend staying at this beautiful villa. We will definitely be back with our family.
We had a great 5 nights stay in Villa Stella. A beautiful house with a breathtaking view. The staff was perfect, nice efficient. Great food and many great and well organized activities such as dining snorkeling trekking. Thank you so much and looking forward to coming back soon
We had a dream holiday. The area is beautiful, away from the tourist crowds and very central to the activities of all kinds: diving, walking on volcanoes and rice fields, business Lembogan ... The house is beautiful, and attentive staff.
Ideal location, perfect meals and service every day. Staff catered to every need in an unobtrusive way. Would recommend if you require a totally relaxing location.
Villa Stella is a breathtaking property - a huge villa on a huge piece of land directly on the water. The furnishings are elegant, modern, spare but comfortable with many inviting spots to curl up with a book or a Bintang! Each of the three bedrooms (one downstairs, two up), furnished with a king-sized bed, a couch and a day bed, opens from a wall of glass onto furnished terraces overlooking the lawn and sea. The A/C works well as do the ceiling fans. There are large, mirrored, well lit dressing rooms with plenty of closet space, attached bathrooms with showers and double sinks and in the master bath, a huge outdoor area with bathtub and private sunning pavilion. Downstairs, accessed by two dramatic wooden staircases (no railings so perhaps not great for toddlers or elderly) is the relatively small media room with the villa's only TV and surround-sound system, the indoor dining area (which we never used - all our meals were served in the beautiful ocean-side bale) a guest lavatory, the kitchen and staff area, access to the third bedroom and the enormous living room with comfortable seating for 6 on white leather couches and chairs. It should be noted that this open-plan living area is not air conditioned. Outside, there are terraces upstairs and down spanning the entire width of the house. Their are plenty of cushioned pool chairs and umbrellas surrounding the pool area. Between the pool and the sea wall is an area of sand also furnished with chaises and umbrellas (there are rocks directly in front of the villa, but the beach begins at the edge of the villa property and there is easy access via a set of concrete stairs with railing. The staff of 9 was wonderfully sweet and attentive and kept the villa and grounds spotless. A trained chef would have been very welcome.
We have just come home from Bali and the wonderful Villa Stella totally rejuvenated. We were reluctant to write a review because we want Villa Stella to remain our secret!! But truly it is a wondrous place in a quieter part of Bali. Serene, beautiful and incredibly stylish this villa is everything our family wishes for on holiday. The staff were lovely, kind and thoughtful. The owner has obviously thought of everything you might need. The recommended guide and drivers were fantastic. Everything worked for us. We want to return! Thank you for helping us find this amazing property.
We had a wonderful time in this beautiful villa.very relaxing;the view is just amazing and the staff extremely kind and helpful. we will definitely miss this place thanks to all the team.
Its a very calm and peace place. Pictoresque view.friendly people. Nice place to visit. Thanks a lot to all staff who make our staying here so comfortable and homelike.
Here are our availabilities for the next few months:
Minimum stay
3 Rooms
from 14/04/2017 to 23/04/2017
High season
5 nights

USD $

780

from 23/04/2017 to 01/05/2017
Low season
3 nights

USD $

600

from 01/05/2017 to 01/07/2017
Mid-high season
5 nights

USD $

650

from 01/07/2017 to 01/09/2017
High season
5 nights

USD $

780

from 01/09/2017 to 01/11/2017
Mid-high season
5 nights

USD $

650

from 01/11/2017 to 20/12/2017
Low season
3 nights

USD $

600

from 20/12/2017 to 11/01/2018
Peak season
7 nights

USD $

800

from 11/01/2018 to 01/05/2018
Low season
3 nights

USD $

600